Well....I didn't think it would happen THIS quickly, BUT!!! YGIU.com has it's first celebrity sighting. And in it's first week!
OY!!!
As many of you may, or may not know, Boston local boy Ben Affleck is filming his new movie here. "Gone Baby Gone" is based on the novel by Dennis Lehane (the same dude who scribed "Mystic River)". I kind of don't feel like going into the movie and it's basis so you can just click here to get more info about "Gone Baby Gone" at IMDB.
Anyhew....now that that's out of the way.
I TOTALLY SAW THEM FILMING!!
IIIIIIIIIIIIIIIIIIIIIIIIIIIIIIIIII KNOW! (for all of my people in LA <with the exception of Brian> reading this right now, I know daily sightings of like Sir Ben Kingsley and Charlize Theron are daily occurrences, but we don't get much of that here in Southie...so...STFU)
Ok so. I'm coming out of work and I take a left onto L Street. I'm tooling along in my car (aka: The Rollerskate), music blasting when I come up to the corner of L and East 1st, where Murphy's Law rests. Now I've been aware of the filming since Monday when it all started, but for some reason I just thought to myself "Oh...there's no way I'll see anyone."
WRONG! SO WRONG!
I look to my right and there is Ben Affleck gesticulating wildly in all of his directorial glory to some camera man dude. "OMG!" I say out loud. Well...there's a green light so I have to drive. So I get on the phone and call my sister. (I just have to tell you all that I live about 3 minutes from Murphy's Law in Southie. So the fact that Ben Affleck is within a stones throw of my apartment is like...HUGE!)
After my sister picks her jaw up off the floor I tell her that I am going to swing by the house and pick both her and our friend LK up and we're going to do it up paparazzi style!
Our first attempt wasn't so successful. We got strong armed by some clowny assistant dude who I think we woke up from a nap. He accused us of circling the block and told us we had to turn around. After telling him "Yeah, thanks. This is my neighborhood!" we parked the car and made our way down East 1st. Our "star" gazing lasted for all of 30 seconds before some OTHER assistant ran across four lanes of rush hour L Street traffic, to tell us that we were in the shot and to please turn around, walk down the street and get out of the way.
Honestly...if it's that important...why not close the street off? I mean...
Well, EFF this! We didn't come all this way (3 minutes) to get kicked out of our own turf. Shana, myself and LK devised a Plan B!
After some careful maneuvering down Emerson St, we passed the Southie Post Office, we took a RIGHT onto East 1st and came up Murphy's the other way, but in my car. Luckily we got a red light and were able to get some sweet **shots. Like this one of Casey Affleck (the younger brother of Ben)below!
=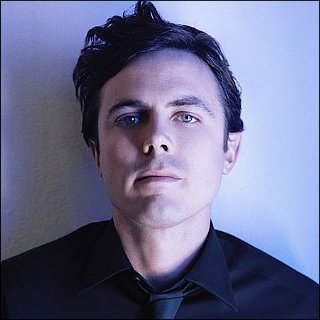 Casey Affleck!
Erm...we were also able to get some "landscape" shots (if you can call them that) of the outside of the bar! YAR!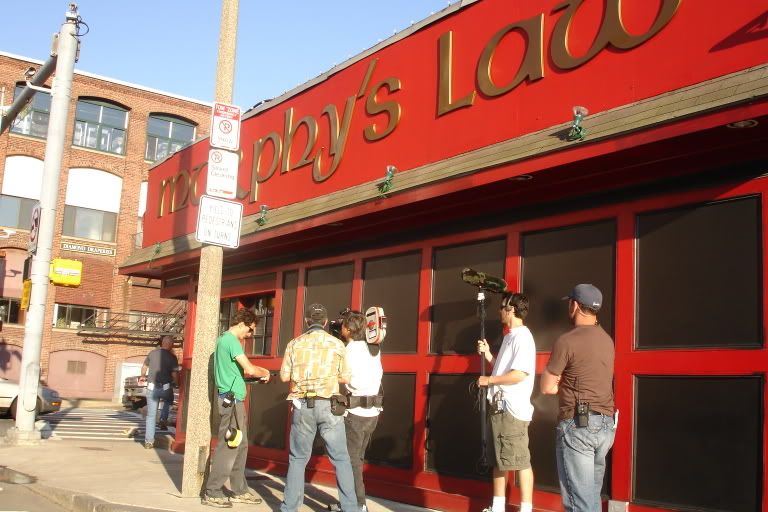 The Crew!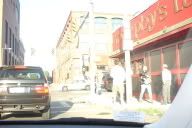 View of Murphy's and filming from my car going 60 down East 1st!
Erm...a blurred shot of the "y's" from the "Murphy's Law" sign. Maybe I should have slowed down...hmm...?
So after that initial round we were so pumped that we decided that we absolutely HAD to go around again. So I kicked the Rollerskate into 4th gear and sped around the block. We crawled up to the bar again. ANOTHER RED LIGHT! Lady Luck was clearly with us!!! Then, as we were wildly looking around, our eyes spinning out of control, LK shouts "THERE'S BEN AFFLECK!!!!"
AND THERE HE WAS!!! BEN AFFLECK!!!
= the guy in the t shirt and jeans looking our way. You can't see it but he had a definite look of "WTF???!" on his face.
Such Greatness! We wanted to go around a third time. Maybe see if Morgan Freeman was anywhere in the area, but on our second go 'round I noticed a cop scoping my license plate and for those of you who are familiar with The Rollerskate know that the front grill is, how do I say it, "unique" looking....
So we took our photo loot and basked in our Paparazzi glory!
I know it's not the red carpet at the Kodak Theater, but it's Boston and it's my home!!!
**photos courtesy of Shana Gradie