So, a bunch of us here in the Design Room at The Spoil (remember, work code name) are starting to lose it. It's been a long couple of weeks complete with lots of box mock ups, eye rolls and "SARSGAAAAAAAAAAARD"-ing with a couple of chocolate chip cookies thrown in for good measure.
There are little things that we all do when we're stressed out. J. Sutt puts her big ass BOSE headphones on and doesn't talk to anyone. Steiner just says, "Make a list! MAKE A LIST!!!" And Derek, well, I'm not really sure any amount of stress phases Derek.
You can usually tell when I'm on edge. I get snappy. I yell. I run around all pissed off looking and give you the Care Bear Stare when you come up to ask me a question...oh wait...this is what I'm like all the time at The Spoil. HAR!!! But a tell-tale sign is when I throw my hair up into this lovely do':
Note: I'm not sure what this face I am making is all about.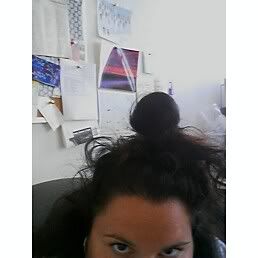 Aerial Shot.
See the conundrum here is that I have bangs and A LOT of hair. Throwing my hair up in a ponytail does not stop my bangs from falling in my face and I usually don't have a head band or a bobby pin near by so I am forced to rock this hair do around the office.
I've told my friends about it. They don't believe it. If they see me they're like, "Uh...nice hair." I'm like, "Oh you like it?! This is what I do at work!!"
Their reaction is one of disbelief followed by a tentative smile as they wait for me to be like "J/K!!!! I wouldn't be caught DEAD with my hair like that!!!"
Not so much. I do indeed wear my hair like this at work. I could care less. There is no one at The Spoil that I am even remotely interested in impressing. You can usually find me bombing around the corner and getting right up in someone's face asking for artwork as my little bun of bangs bobs up and down.
Oh and during this particular summer you can find me rocking this do' along with an over-sized Cape Cod sweatshirt because it is Antarctica in the Design Room.
Hot. So hot.