Well this is interesting.
A few weeks ago when a girl from our NYO was here for a meeting we were talking about how we both are obsessed with mass market shopping and how funny it is because we both work for a luxury goods brand and hardy har har har. (Click here to read how much I heart to shop for mass market goods). So this girl and I were shooting the breeze about some of our favorite mass goods when she busts out with how amazing the Dove Energy Glow Body Lotion is. And as a matter of fact she had it with her in her large black Gucci Horsebit bag and did I want to look at it.
Um. Totes.
So I'm studying the bottle and it's marketed as being "enriched with delicate skin brighteners, it gives your skin a subtle radiant glow. Your skin looks noticeably improved and feels cared for throughout the day."
Well, I could use some subtle glow for sure! A little sun-kissed look never hurt anyone! With the winter months upon us, my passport for Namibia is being replaced with that of Ireland.
So naturally I drove to Brooks immediately after work and purched the product. At first I was hesitant. With products like this, when you first put it on it smells all yummy and mango-Y and like summer, but after a few hours the ingredients that provide the "subtle glow" come through and you start to smell like sweaty balls. I mean it's true. The only smell I can attribute it to is some sweaty balls. (Hiiiiiiii mom!!!)
I eventually got over my nervousness about the product and I've been applying it pretty regularly every other day.
Well, yesterday morning, I rolled out of bed and proceeded to the kitchen to make coffee. Since it was morning and I can barely speak during that time of day, let alone hold myself up, I had my head down. What I noticed kind of shocked me. My ankles were pulling a full on Lindsay Lohan; aka the area around my ankles were completely orange, a tell tale sign that someone self tans. But wait, I wasn't self-tanning, I was subtly glowing...Wasn't I???
After I secured my first cup of Columbian Blend coffee I studied myself in the mirror. Yep, I'm legit tan. There's nothing subtle about my coloring. It was kind of more than what I was bargaining for.
So in the shower I took my Fresh Brown Sugar Body Polish and scrubbed the living daylights out of myself. I paid close attention to my ankles. I mean....can't you exfoliate self tanning away?
Apparently not because I'm still pretty Oopma Loompa-ish.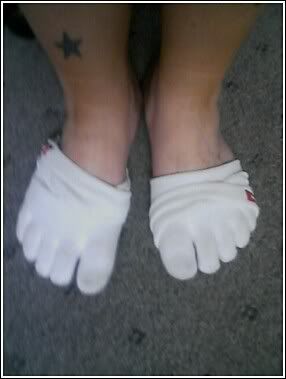 I mean....for subtle this is pretty hard core. (p.s...don't even lie. You love those socks.)
I mean...they tell you to always wash your hands after using a product like this so your palms don't get all orangey. What they don't tell you is that when you wash your hands, obviously the tanner washes off of the tops of your hands. What you're left with: a look similar to Mickey Mouse.


Oy.
I mean, had I known that I was dealing with a self-tanner in disguise I wouldn't have slathered on the goop with such voracity. I thought I was merely going to be sun-kissed. Where is my sun-kiss-y-ness???? I've dealt with self-tanners before, back in college when I was too poor to actually go tanning, and there is a protocol you have to follow, rules you have to be aware of. This has just totes thrown me for a loop.
Thank God I didn't get the face stuff. Could you even imagine?!