No. No no no no no no no no noooooooooooooooooo!!!!!
What I am about to tell you is so heinous, so.....so blasphemous. I'm not even sure you can handle it. This information is not for the faint of heart so if you have high blood pressure or are prone to dizzy spells I suggest you click out of YGIU this instant. (Not before passing along my website to all of your friends of course.)
God. It pains me to even form the words to tell the story.
I headed to South Shore Plaza this evening to do some returns. I had to return a mascara at Macy's and a shirt at The Limited, which is now apparantly my new favorite store. Anyway I walked in and did a loop. I was perusing the cute striped halter tops (I had just read in Allure that they are tres flatering), when I turned around and was met with the site below:
Honestly. Brace yourself. (insert swallowing back of bile here)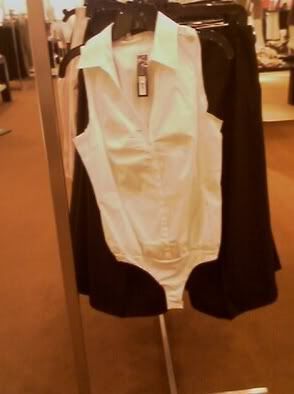 The body suit (eeeeeek! GAAAAAAAAAAAAH MY EYES!!!!!!!!! WAR OF THE WORLDS WAR OF THE WOOOOOOOOOORLDSSSSS!!!!!)
First leggings (which I admit, I succumbed to. But after like two years!) then ankle booties. NOW the body suit?! Helloooooooooo 1994 called they want it back!
I used to sport these in 8th grade. My BFFs 4-eva 'n life Britt and Brooke (twins) and I used to parade around the halls of Norton Middle School rocking these atrocities. I mean, at the time they were cool! You wore them with your Lee jeans (pegged, naturally) and your suede purple or teal Adidas Gazelles.
What in the name of Gerard Butler's quads in 300 is The Limited thinking?!?!?!!?!?!?
I actually gasped when I saw it.
"Ma'am?"
I turned and there was an eleven year old looking sale associate staring at me. A look of concern on her face.
"Uhhmmm...er....The Bodysuit huh?"
"Yeah! We just got them in! They are sooooooooooooo cute!"
I whipped my head around so fast, I think I pulled a vertabrae.
"Cute?!" I spat, "How do you mean Cute?!"
"I can't wait to get one?"
My eyes bugged out of my head "Get one? I used to wear these in Middle School! These are not cute!"
"Oh...um well I just graduated highschool so....."
Oh dear God. What's next? The return of the scrunchi???
I'm so calling it now.