So much for not blogging at work.
I'm freaked out. My best friend from college just sent me an email with an image of a clown in it. Apparently the accompanying article was a knee slapper but I didn't get to the article. I was too busy trying to shield my eyes and find the X to click out of the window. I reminded her that clowns freak me out and her response was, "But the article was kinda funny."
This is a girl who is deathly afraid of dogs and like freaks out when a pooch the size of a tic-tac comes near her. She's coming for the weekend. I should probably cancel the Rottweilers. I mean, right?
So now I'm sitting at my desk, marinating in my own sweat because I'm really hot and the time has been 4:50pm for the past like five minutes. The only thing I can really focus on is the glass of wine I will shotgun when I get home. Doing work is virtually impossible because the owners the of the Drydock have decided that number 25 needs a face lift. The scaffolding they put up looks like it was last used to build the George Washington bridge and there are guys in hard hats swinging around on the bars, sans harness, whistling at people and ripping butts (**hip new term for smoking**).
It's actually giving me a lot of anxiety. Especially when I try to eat my salad at my desk and they stare at me while doing so.
Having trapeze artists outside of your window also makes it awkward when I'm trying to shop for boys (i.e: cruise the online dating sites to see what residents of clown town have moved into the neighborhood). I have been emailing back and forth with this one guy for about two weeks now. And I just reread his profile and he's like really into working out. Like he works out about 3-5 times a week. And he's looking for someone with the same habits.
Why he emailed me I have no idea. I'm lucky if I get out there and walk around Castle Island twice in one week. And if I happen to do some free weights? *psha* Then I am of the mindset that I just ran a marathon and I can go a little easy with the working out for a while. He asked to hang out and I'm thinking of replying back with, "Just so you know, I canceled my gym membership. Is that a deal breaker?"
While shopping today, I came across this guy: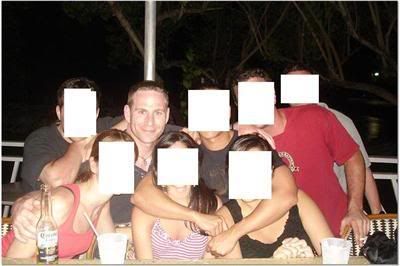 He either really hates his friends or just doesn't know how to crop himself out and only knows how to crop little white box faces. I've actually been seeing the white box face epidemic a lot recently. And by a lot I mean I really need to wrap up this whole online dating thing because yesterday when I was home for Father's Day watching the Red Sox with the family, a commercial for that new show Sox Appeal on NESN came on and my mother whipped her head around and barked at me, "Leeeee-SAH! Why ahn't you on that?!"
Clearly my mother is not hip to the "camera adds ten pounds" way of thinking.
"Um. Because."
"Leeee-SAH! You need to send an audition tape in!"
"Mom. I'm all set."
"Does it cost money? I'll pay for it."
"Mom-"
"Hey, you'd get to go to the Sox game and sit in the monster seats!" That was my dad's contribution to the conversation.
I'm all set. I'd rather wait online at the box office in the sweltering heat than have a first date video taped. Even though I'm a good first date. I always kill it on the first date.