I think I've found my absolute soul-mate. The guy I want to spend the rest of my life with. Seriously. I mean he's just SO amazing I had to tell the world about him. Well, actually instead of me going on and on about this new gem I'll just let you read his ABOUT ME for yourself:
I don't have much time on Match left. I did NOT join for true love. This is fun and safe (so far). I've lived in NYC for the last 5 years, and have recently moved home. I guess my family and friends missed me, but who could blame them? I'm quite likable. I have been on some serious roller coaster relationships and psychos need not apply. I can be superficial and needy. Unless you have superb genetics, please get to the gym. Looking good takes work, and I'd like to find a girl who takes pride in her appearance. Alot of u girls are lying... Don't say you are average if you are fat. Don't say you are funny, cute, etc... if you are NOT. All ur profiles are starting to look the same. BE HONEST! And if you do meet me, like me, make a connection w/me.. then don't play games!

So are you still here? I'm sure I'm not winning too many fans with this rant. But I swear, I am a "nice guy" Hahahahaha... whatever!
Gee. Can't imagine why your time has run out on Match and you still haven't found anyone. Is this clown for real? And don't even tell me "Oh well at least he's honest!"
No. No. There's a difference between being honest and being a D-bag. Being honest is me saying, "I don't like to camp." Not saying, "Um. If you camp you're a dirty hippy who doesn't know how to dress and you probably are poor." (Just for the record: I don't think that. I just REALLY don't like camping.)
Oh and it gets better. Here are his favorite things:
It's all or nothing. I like to go hardcore at the gym when I go, diet neurotically when I'm trying to get in shape. But when I want to eat bad, ColdStone or Bickfords will do. I also like the beach and sex... is that enough for now?
Um. Honestly. Talking about how much you like sex is right up there with talking about how much you like money. It's tacky and unnecessary since everyone likes those two things!
You're probably wondering what he looks like? I mean someone who's that much of a dick has to have, well the dick and the looks to back it up. I mean that's what you'd think right? You're reading the above filth in bold and probably imaging this:
Geoff Stults....HOT.
Geoff Stults not your type?. Ok well maybe reading the above you were thinking this:
Yummers!
Ok well Maybe John Mayer isn't your style either. Whatever winds your clock.
Well I don't think that your brain was migrating towards this: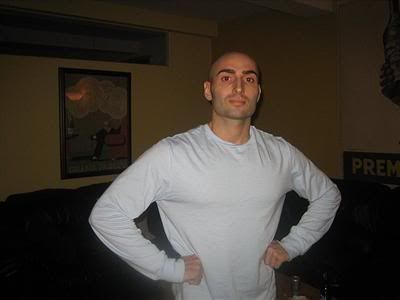 EEEEEEEEEEEWWWWWWWWWWWWW!!!!
If you're gonna talk shit then don't look like a bald Balki.
If one of his friends reads this, feel FREE to pass this along. Someone's gotta tell him.